Vision
At Maon, our vision is to provide Earth's most substantiated forecasts for decision makers at energy markets.
Motivation and aim
Decisions in energy markets are all about the future. But, the future is driven by a mix of uncontrolled factors such as climate change, public policy and innovative technologies. To make optimal decisions, complex outcomes need to be forecasted with speed and accuracy.
Resilient and traceable forecasts represent a necessity for traders, investors and operators of plants, consumers and storages. Same applies to transmission grid operation and planning as well as topics of public interest like market design analysis or security of supply assessments.
As a result, we developed in 2018 the world's first large-scale detail-rich high-speed fundamental electricity market model. The comprehensive simulation environment enables fast, cost-efficient and in-depth market analysis and decision support.
The platform supports mobile, non-linear and parallel work-flows for hands-on quality management and superior cross-organizational teamwork. Ready-to-start input data with close-to-reality results can be used immediately. Users can promptly analyze mission-critical results, like prices and volumes, through interactive graphs and maps directly in their browser.
In high-stakes energy markets this gives a remarkable advantage. It predicts the future so it is possible to choose the right action in the right moment. With Maon, you can make the most accurate and certain decisions within minutes, knowing knowing what to do and what not to do.
Before you commit to your next big decision: How confident are you that it is optimized to consider every factor and that you know all the possible future outcomes that could benefit you? Leading European transmission system operators and business consultants trust Maon to provide exceptional decision insights. We can do the same for you.
Browser
Access to data, simulations and graphs is available via browser for immediate usage and via web interfaces for embedding machine-to-machine applications. Figure 1 depicts the browser-based graphical user interface as well as typical workflow steps and times.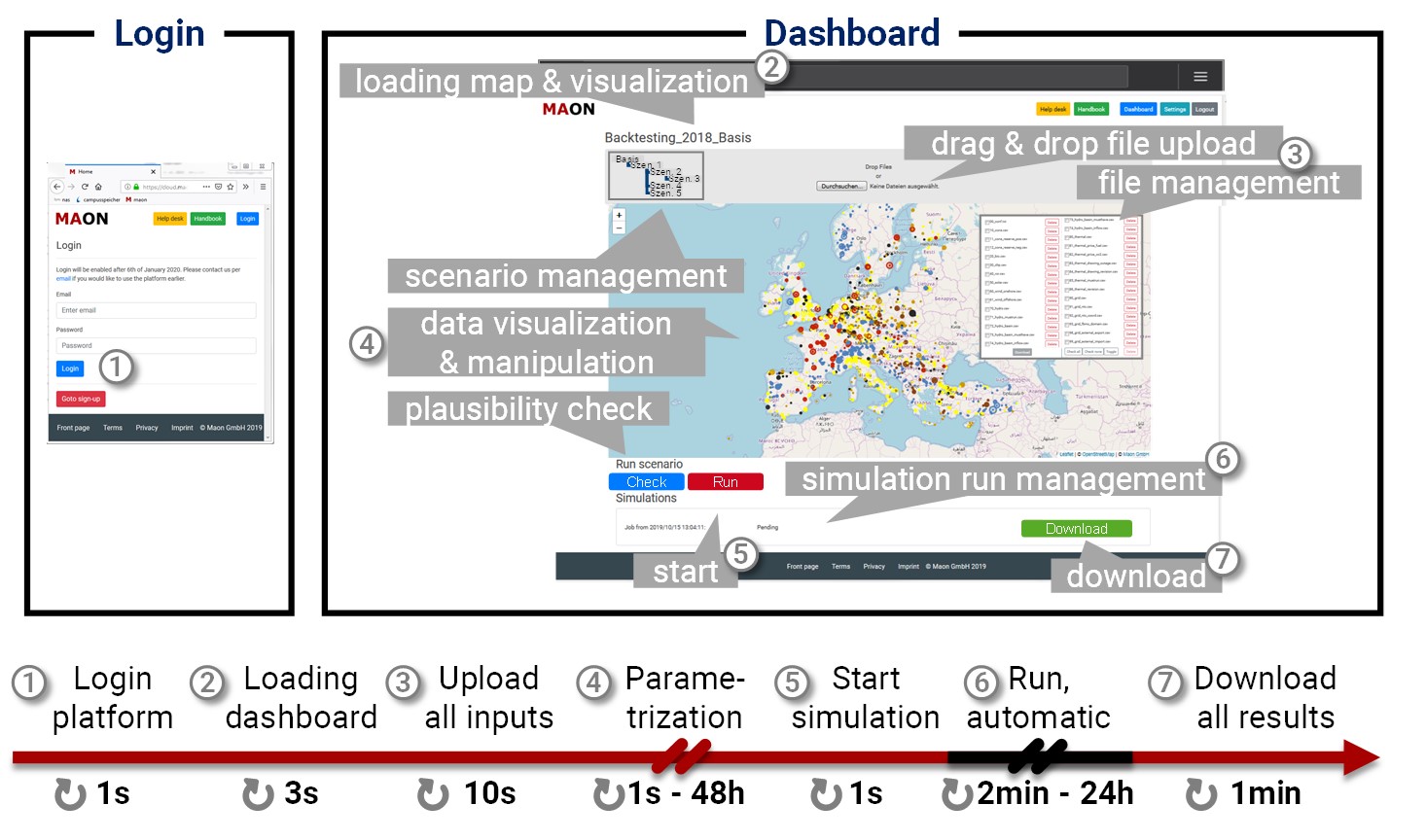 Figure 1: Platform and workflow

The graphical user interface provides features for up- and download, parameterization, run management and visualizations. Well-known web interfaces lead to highly efficient workflows. Sensitivities can for example be parameterized and started in below ten seconds.
Due to the responsive design it can be used on the go or at home via tablet or smart phone. Maon enables non-linear and parallel workflows to divide parametrization steps among multiple users and to check the model correctness through clear visual data summaries.
Simulation
The electricity market model can handle Europe-wide input data simulating degrees of freedom in exchange, demand, renewables, batteries, thermal and hydro power plants for time coupled years with a hourly granularity. The comprehensive data is processed year-by-year by a three-staged optimization problem solving procedure displayed in figure 2.
Figure 2: Fundamental electricity market simulation

The first and third procedure step handle seasonal couplings like hydro basin filling levels. The combinatorial complexity is managed by a step-wise optimization in between. So integer restrictions like minimum power or minimum up time can be considered. The user is fully empowered in the simulation environment since he can change all input data and download all output data. After starting a simulation, the procedure runs in the background automatically at a high-performance computing cluster.
With a positive initial data check, we guarantee a run without abort. In case of failure, the user gets a problem description and a solution proposal. Hence, manual data processing can be reduced to a minimum. Further, aggregation methods for Monte Carlo and fast-mode runs are available. By this way stochastic effects can be analyzed consistently and preliminary results can be derived in just some minutes.
Results
Pre-parametrized data sets comprise historical years and typical future scenarios. 2018 is one available scenario that includes Flow-Based Market Coupling domains (approximately 458000 restrictions), thermal power plants and coupled hydro power plant networks (approximately 5000 units). Figure 3 displays the resulting generation amounts as well as prices and compares them with historical observations.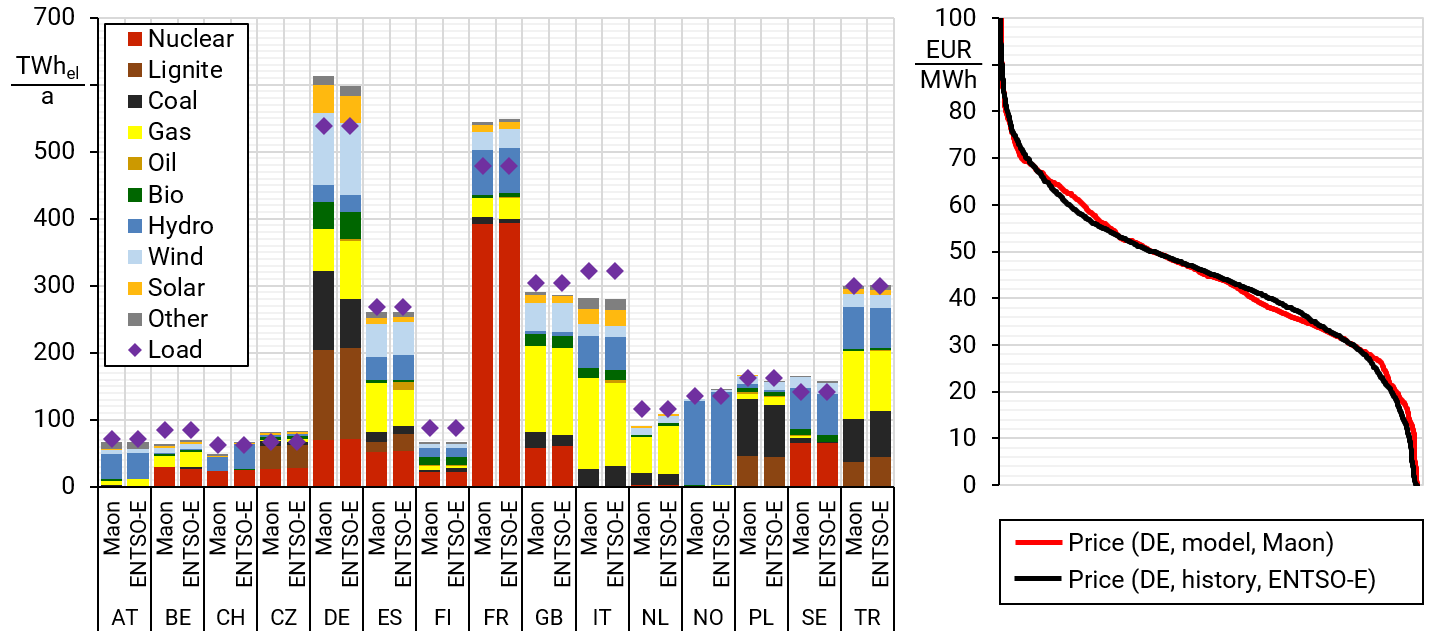 Figure 3: Exemplary electricity generation amounts and price duration curves

Generation amounts and spot prices get close to historical values. Thus, European-wide, annual and high-resolution schedules and prices can be derived. Based on Maon, in-depth and close-to-reality planning can be carried out. Therefore, raw results are automatically processed for social welfare analysis, power-flow simulations and unit-wise cost-benefit analysis.
Key take-away
Maon enables browser-based and rapid electricity market simulations with minimal effort and without the need for permanent provision of software and hardware. It supports non-linear and parallel workflows for hands-on quality management and cross-organizational teamwork.
Well-known internet interfaces provide a highly productive workflow and an immediate start. In the comprehensive simulation environment included latest research results achieve a leading-edge degree of realism.
Simulation results can be analyzed directly and interactively in the browser via maps and figures. Schedules and electricity prices are prepared for seamless following power-flow calculations, electricity price forecasts or unit-wise assessments. It delivers highly accurate and extremely fast forecasts so that the user can pinpoint the most beneficial option.