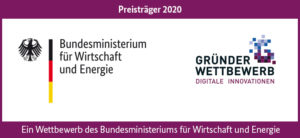 Today's news are all about digitization: Maon was honored by Mr. Peter Altmaier, Federal Minister for Economic Affairs and Energy (BMWi), in the 'Start-up Competition – Digital Innovations' as one of 20 ideas from 222 applications.
In the meantime, the development of our digital platform is progressing: a module for modelling individual reserve qualities, including their exchange, has been completed. In addition, all 360 control parameters of the simulation procedure were integrated into the graphical user interface, so now one click in the browser is enough to change a model configuration.
Finally, we started to summarize and publish our use cases and references. You will find the pdf articles directly in the header of our website. We hope you enjoy reading it!